WHY IS STARTUP SABOTEURS A MUST-READ FOR ASPIRING ENTREPRENEURS?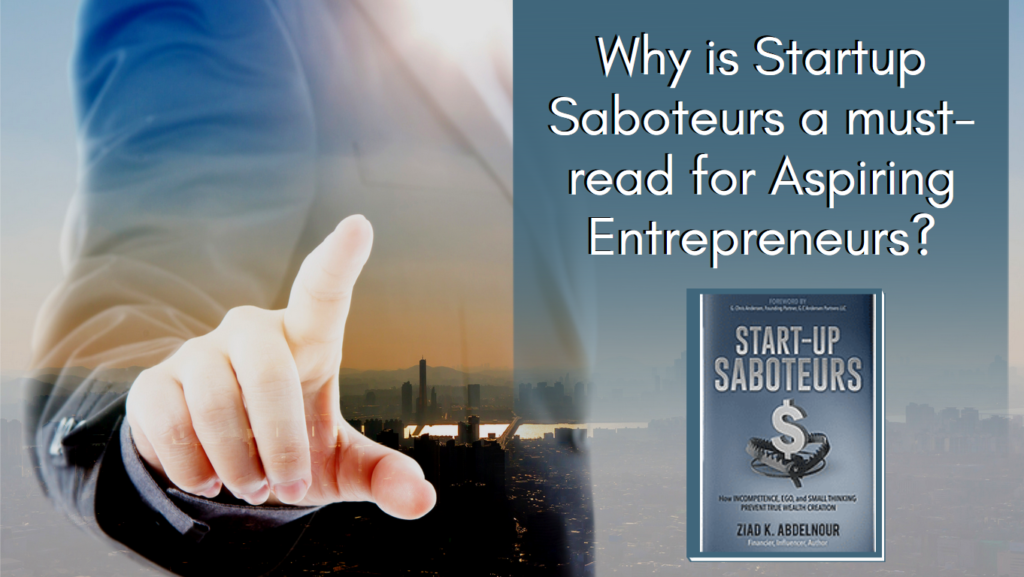 Startup Saboteurs is an exciting book written by Ziad K. Abdelnour, a New York-based Lebanese American author, investment banker, philanthropist as well as the CEO of Blackhawk Partners. Doing full justice to its name, Ziad K. Abdelnour takes the readers on a journey to understanding precisely how to create wealth by eschewing their limited thinking, not defining the outcomes, or trying to control them as well as eliminating boundaries.
It cannot be denied that when it comes to starting one's own venture, money is the central goal in mind. You would not really be doing well as a business if you cannot generate income and revenues from it. This is where Ziad Abdelnour brings his insight and own knowledge to the forefront to share with the readers.
He says that in order to get real wealth and make your startup grow, it is imperative to exercise a certain bit of freedom in all your business processes. In the same vein, acquiring money is not synonymous with acquiring materialistic things or flaunting them amidst friends or family. Money is the ticket to do whatever you want and need and whenever you want or need it.
Through Startup Saboteurs, Ziad Abdelnour calls on all the budding entrepreneurs across the world to stop and unlearn everything they know about wealth creation. In addition to that, it equips them with the necessary tools to generate their own wealth in a self-satisfied manner. In this regard, the book can be called an empowering read for people looking to make their own in the world of business.
Ziad Abdelnour offers an insightful book that helps budding entrepreneurs acquire wealth by putting efforts in the right direction. According to him, restrictive thinking and the inability to define outcomes is the biggest obstacle to obtaining wealth. You not just get tips and tricks on wealth creation in this book but also learn how ego or small thinking can hinder the process of wealth creation and accumulation. If you are a budding entrepreneur, it can be a great idea to read this book because it helps in self-reflection. It will also urge you to re-think your actions and turn them into something that will actually give you returns.
Of course, there are plenty of books on business and entrepreneurship in the market. But something that sets this book apart is its approach towards actions that impede success. It talks about your own self as the most significant obstacle or hurdle that can come between you and your success. When you read this book, you get an understanding of your own destructive actions.
To sum up, Start-up Saboteurs is a must-read for all entrepreneurs because it helps in gaining a deep insight into the possible hindrances to wealth creations. Once you get to know them, you can easily overcome all the obstacles and move towards unlimited wealth creation. It is something that entrepreneurs have been looking for and have arrived at the right time!
Share: