ZIAD K. ABDELNOUR – THE PHILANTHROPIST
Ziad K Abdelnour is the President & CEO of Blackhawk Partners, Inc., a NewYork based private equity agency. He is also an activist, lobbyist, author, wall-street financier and also an active philanthropist.
His company Blackhawk Partners has been involved in originating, structuring, advising, and acting as an equity investor in management-led buyouts, strategic minority equity investments, private equity placements, consolidations, buildups and growth capital financings in companies and projects based both in the US and emerging markets.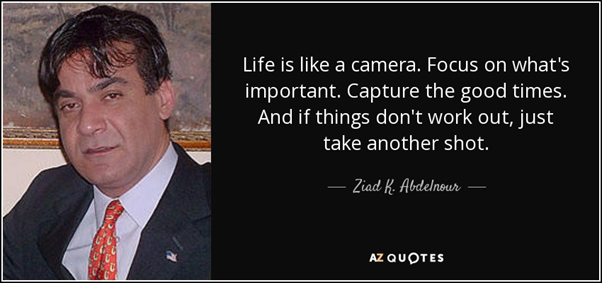 Entrepreneurial Philanthropy
According to Ziad K. Abdelnour, philanthropy is always not about helping others by giving money, but help them learn a way to solve their problem themselves. There is a famous Chinese proverb that goes like, "You give a poor man a fish and you feed him for a day. You teach him to fish, and you give him an occupation that will feed him for a lifetime."

Ziad K. Abdelnour states that this philosophy is being followed at their Financial Policy Council. He goes on to further adds that being a philanthropist, social challenges should be seen as an opportunity rather than an issue to create a dynamic enterprise.
He thinks that anyone who has a solution for a $10 billion problem can easily create a $1 billion worth company. He believes that these social challenges like smart and integrated transport, global warming, generating clean and efficient energy, health and well-being are some of the billion-dollar issues waiting to be solved.
People who can provide a lasting solution for these issues can create a billion-dollar enterprise quite easily. That is the reason, as a philanthropist, he thinks that significant challenges exist in the form of opportunities in social problems. If you have the eye to spot those challenges and turn it into your benefits, you can become an entrepreneur.
ZIAD K ABDELNOUR – PHILANTHROPIC QUOTES
Ziad K. Abdelnour is also one of the best-selling authors for his famous book named "Economic Warfare: Secrets of Wealth Creation in the Age of Welfare Politics." He has provided dedicated to the next-gen entrepreneurs with some thought-provoking quotes, that include:
"Trust is earned, respect is given, and loyalty is demonstrated. Betrayal of any one of those is to lose all three."
"If You're Not First, You're Last: Sales Strategies to Dominate Your Market and Beat Your Competition"
"We are in an economic war. It is a war between those who create wealth and those who believe they have some sort of divine mandate to appropriate wealth. They don't have such an authoritative command. I don't think they ever did. We have tried their command-and-control methods for nearly a century because they said they knew better. It is now obvious that they didn't."
MESSAGE TO THE PUBLIC
Based on the excerpts from his interview to Evolve Magazine, Ziad K. Abdelnour states that people need to be:
Bold
Create Controversies
And be disruptive
Ziad K. Abdelnour sums it up everything by saying that that success won't be defined based on your height of success or the money you've earned, but will be made possible only through your conviction to the society and how your address their problems. To him, success is not about money or power; it truly lies in empowering people.
Share: